Off-leash group classes for puppies and teen dogs at Jaya One in PJ. Conducted on weekends.
To secure a place, please Telegram, SMS, or call us at +60 17 8845269 for further details.
Meet The Trainers
Rubini Maruthian & Prakash Raman teach you how to train your dog to be your lifelong friend.
And we teach you the thinking behind the training, too!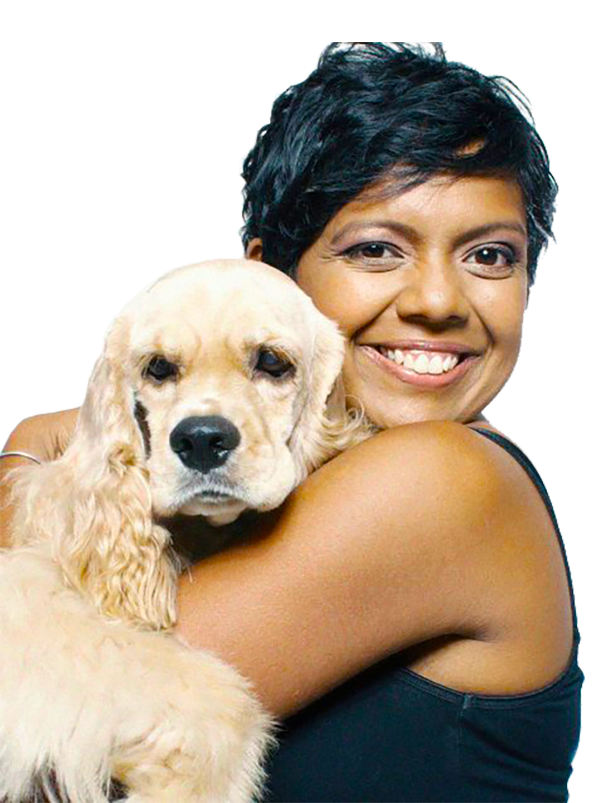 "I use Positive Reinforcement Methods. This form of training is still very new in Malaysia. What this basically means, is that I don't use any harsh methods to train the dogs. No choke chains, collars, pulling, jerking or yelling at the dogs. Instead I use high value motivation rewards to encourage them to perform the commands."
Rubini is a Certified Professional Dog Trainer from Animal Behaviour College (USA), a member of the Association of Professional Dog Trainers, the mother of two young children, and an avid dog lover. Dog Management Training Videos by Rubini here.
"Dogs have never asked to come into our world, but we as humans chose them to be part of our families. In exchange for the love and companionship they provide us, it is only fair that we extend them the respect they deserve by training them to co-exist with us."
Prakash is a highly experienced dog trainer with more than 10 years of experience in the field. He specialises in working with large-breed dogs. Prakash applies a balanced training approach through real-life scenarios to help dog owners achieve their desired training goals.
NOVEMBER TERM starts 12 & 13 Nov
PUPPY (up to 6 months)
Sat 11:00am-12:30pm

Sun 11:00am-12:30pm
---
TEEN (6 months & up)
Sat 9:00am-10:30am

Sun 9:00am-10:30pm

Sun 11:00am-12:30pm
---
PRE-AGILITY
---
CANINE GOOD CITIZEN (CGC)
priority given to those who have completed Puppy or Teen course
JANUARY TERM starts 7 & 8 Jan
PUPPY (up to 6 months)
Sat 11:00am-12:30pm

Sun 11:00am-12:30pm
---
TEEN (6 months & up)
Sat 9:00am-10:30am

Sun 9:00am-10:30am

Sun 11:00am-12:30pm
---
PRE-AGILITY
---
CANINE GOOD CITIZEN (CGC)
priority given to those who have completed Puppy or Teen course
MARCH TERM starts 4 & 5 Mar
PUPPY (up to 6 months)
Sat 11:00am-12:30pm

Sun 11:00am-12:30pm
---
TEEN (6 months & up)
Sat 9:00am-10:30am

Sun 9:00am-10:30am

Sun 11:00am-12:30pm
---
PRE-AGILITY
---
CANINE GOOD CITIZEN (CGC)
priority given to those who have completed Puppy or Teen course
MAY TERM starts 6 & 7 May
PUPPY (up to 6 months)
Sat 11:00am-12:30pm

Sun 11:00am-12:30pm
---
TEEN (6 months & up)
Sat 9:00am-10:30am

Sun 9:00am-10:30am

Sun 11:00am-12:30pm
---
PRE-AGILITY
---
CANINE GOOD CITIZEN (CGC)
priority given to those who have completed Puppy or Teen course
FEES
Puppy & Teens: RM500 per term (6 weekly lessons)
Pre-Agility & Canine Good Citizen: RM500 per term (5 weekly lessons)
Canine Good Citizen test: RM50 for course participants; RM100 test-only
Upcoming CGC tests:
PUPPY
Socialisation

Toilet-Training

Biting & Handling

Loose-leash Walking

Manners & Control

Engagement
TEEN
Basic Obedience

Focus Work

Advanced Manners

Controlled Walking

Behaviour Modification

Problem-Solving e.g. chewing, jumping, barking, etc
PRE-AGILITY
Build Confidence

Teach Self-Control

Introduce New Surfaces

Teach Basic Behaviours

Introduce Trick Training
CANINE GOOD CITIZEN
Accepting a friendly stranger

Sitting politely for petting

Appearance and grooming

Out for a walk (walking on a loose lead)

Walking through a crowd

Sitting and lying down on command + staying in place

Coming when called

Reaction to another dog

Reaction to distraction

Supervised separation